HMD Global announced the Nokia Power Earbuds Lite and Nokia Portable Wireless Speaker along with the Nokia 3.4 and Nokia 2.4 smartphones. The Nokia Power Earbuds Lite are designed as a toned down version of the Nokia Power Earbuds which was launched at IFA 2019 last year. The Nokia Power Earbuds Lite comes with up to 35 hours of continues audio playback on a single charge. The Nokia Portable Wireless Speaker will provide a room filled music experience and this bluetooth speaker can used for conference calls.
Nokia Power Earbuds Lite and Nokia Portable Wireless Speaker Price
The Nokia Power Earbuds Lite will cost you around EUR 59.9 (roughly Rs. 5,100), and the Nokia Portable Wireless Speaker price has been set at EUR 34.9 (roughly Rs. 3,000). The earbuds is ready to go on sale in the global markets with three colors Charcoal, Fjord, and Snow color choices on starting October. While the portable speaker will be available for sale in global markets from November 2020. Sadly, the price and sale date in India is not revealed yet.
Also Read Aboutc- Nokia 3.4 and Nokia 2.4 Launched
Additionally, HMD Global announced two more color option for the Nokia Power Earbuds the Polar Night and Mint color. The earbuds launched last year in Charcoal Black and Light Grey colors option.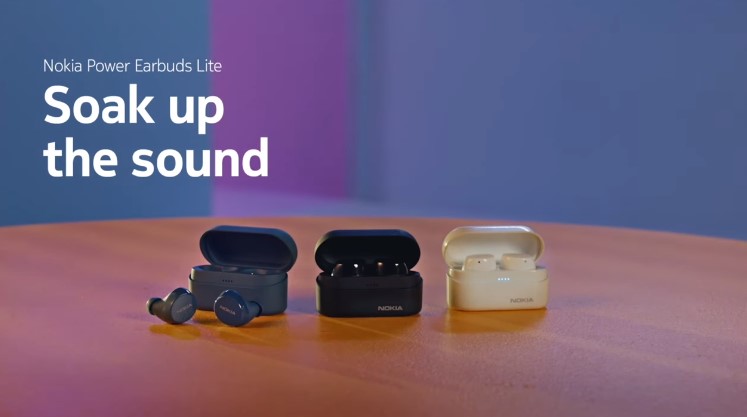 Nokia Power Earbuds Lite Specs
According to the company's claim, these earbuds come with a 35-hour battery back-up. It has a comfortable design and touch controls. Also, it is IPX7 water proof certified. That is, you can use it during gyming and swimming and it can resist 1 meters deep for up to 30 minutes. It has a 6mm graphene speaker driver. The earbuds comes with a charging case that packs a 600mAh of huge battery capacity, while the other earbuds only offers a 50mAh of battery capacity. HMD Global also claimed that the charging case can deliver up to 30 hours of usage on a single charge. And the earbuds are rated with 5 hours of battery capacity. So, this brings a total of 35 hours of audio playback.
In the terms of connectivity features, the Nokia Power Earbuds Lite supports Bluetooth v5.0 for pairing and also includes USB Type-Ccport for charging.
Nokia Power Earbuds Lite offers in an ergonomic design with adjustable ear tips. There are three ear tips included to match the size of your ear.
Apart from this, Nokia Power Earbuds have also been refreshed with two new color variants. Also, Nokia 8.3 5G has also been launched in the new Mint color. Also Read – Nokia 7.3 smartphone can be launched on this date, can get 5G support.
Nokia Portable Wireless Speaker Specs
This portable wireless speaker has been launched with a 800mAh of battery capacity which is touted to deliver up to 4 hours of playtime with a 3W audio driver in 43mm size. Also, microphones have also been integrated for group calling. It is equipped with two new speakers and high quality stereo output. Like other audio products, HMD Global has given Bluetooth v5.0 on this Nokia Portable Wireless Speaker through which you can connect it to your smartphones, laptops and tabs etc. The speaker also includes a Micro-USB port. And you can also pair it with two Nokia Portable Wireless Speakers for stereo sound experience.